RELAX AND DESTRESS WITH COLORING BOOKS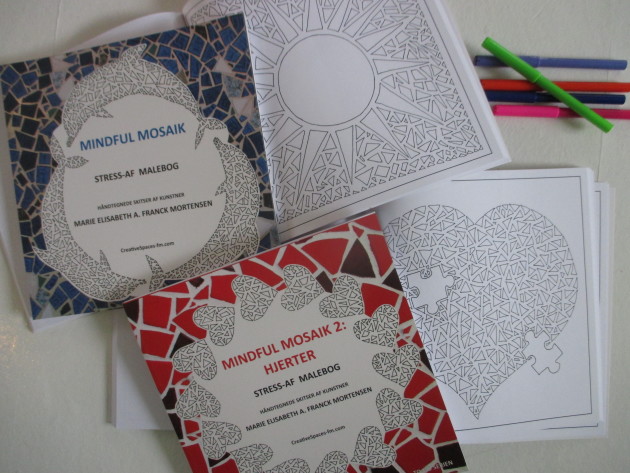 The two coloring books MINDFUL MOSAIK: Stress-af Malebog
and MINDFUL MOSAIK 2: HJERTER are aimed at adults as well as children.
Coloring is a great tool which can help you increase awareness and relaxation.
At the same time it is an efficient alternative to meditation, helping you to practice mindfulness because you clear your mind and unwind your body while coloring.
Some people claim that people who color are happier and more creative.
Using coloring books can relieve stress and anxiety and improve your ability to focus and concentrate.
While coloring, creativity in the brain is stimulated, and you can use this to create small works of art to put up on your wall. Coloring can also help kickstart your imagination and give rise to new ideas.
The two coloring books in the MINDFUL MOSAIK-SERIES stand out because all the sketches are hand drawn by Danish artist
Marie Elisabeth A. Franck Mortensen, inspired by her own mosaic artwork.
The vibrant lines of the drawings bring a special sense of soul and energy to the pages of the book. You can color the sketches, and in some of the sketches there are open spaces where you can unleash your creativity and continue the drawing.
The MINDFUL MOSAIK-SERIES focus on the space of full presence, "the Creative Spaces in Between", which lies between you and the work of art. You can experience this special space of full presence when for a brief moment you let go, unwind and get behind all the noise of your everyday life.
It is all about letting go, relaxing and being present in the moment, in the lines of the sketches and the colors.
The MINDFUL MOSAIK-SERIES are travel-size coloring books which you can become absorbed in anywhere, anytime you need to create a
time-out where you can relax and destress.
You can buy the coloring books at SAXO.COM
Saxo.com offers worldwide shipping.
VAT is included in the price, but will be deducted when shipping outside EU.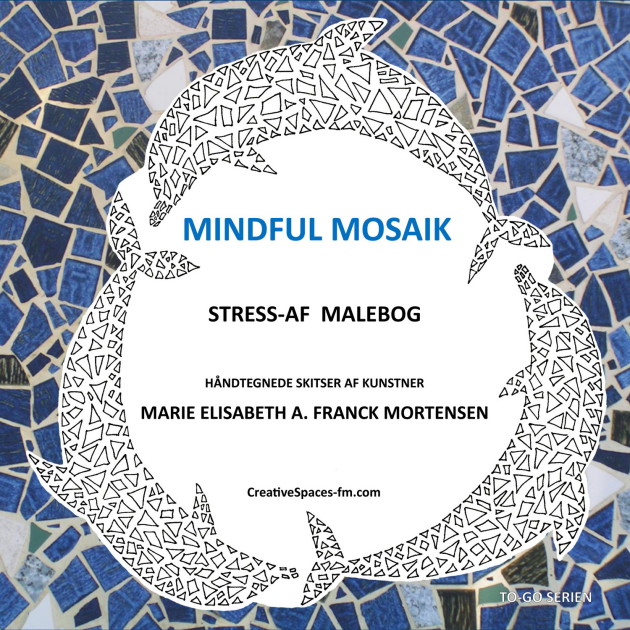 BUY Mindful Mosaik: Stress-af Malebog at Saxo.com.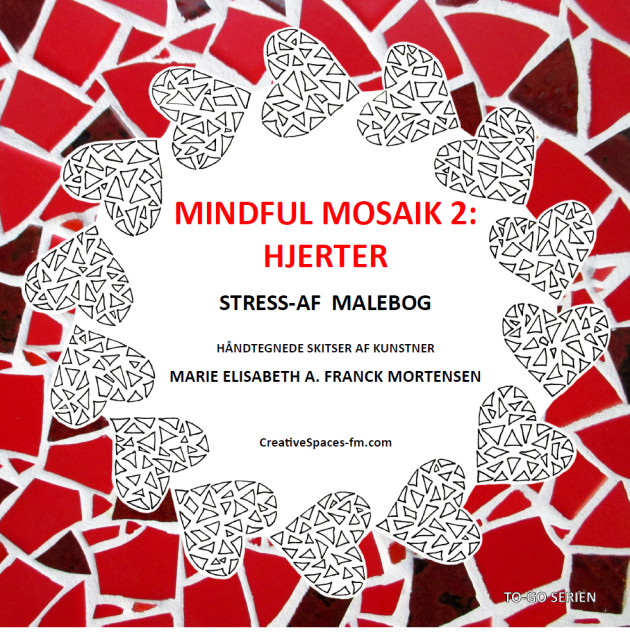 BUY Mindful Mosaik 2: Hjerter at Saxo.com.