INTENSIVE, ONE-DAY MOSAIC COURSES
Do you want to learn how to create a beautiful mosaic decoration, then join one of my intensive, one-day mosaic courses (in Danish) in Gl. Rye.
A mosaic day (from 9.00 a.m. to 4.00 p.m.) could look like this:
We start out with a short introduction to creativity in general.
You will hear about all kinds of tile mosaics – for interior use as well as outdoor use.
You will also learn about modelling sculptures.
Among many things, you will be introduced to the various techniques used for working with mosaics.
You get all the relevant knowledge about materials, tiles, grout and so on, so that you know what materials can be used where, and whether they are frost-proof or not, and also where to buy them.


Click on the photo to see a wide selection of my mosaic art: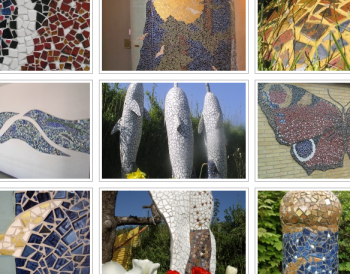 UPCOMING ONE-DAY MOSAIC COURSES IN DANISH:
Saturday, March 25, 2023, from 9.00 a.m. to 4.00 p.m.

OR

Saturday, April 1st, 2023, from 9.00 a.m. to 4.00 p.m.

OR

Saturday, April 22, 2023, from 9.00 a.m. to 4.00 p.m.
NB: Only very small classes.
All necessary measures are taken to prevent the spread of the coronavirus disease.
PRICE: 1,375 DKK per person including materials used during the course day.
Registration necessary at +45 40 21 65 94 or mail.
Special VIP-day in ENGLISH: 3,500 DKK per person including all materials used during the day + you can set your own date.
If you are 3-4 friends who want to attend a mosaic course together, then feel free to contact me, and together we can find exactly the date that suits all of you. The price for the course is 1,375 DKK per person.
Please contact me if you have special wishes for dates or certain mosaic projects.